Making the time and effort to celebrate veterans beyond the holiday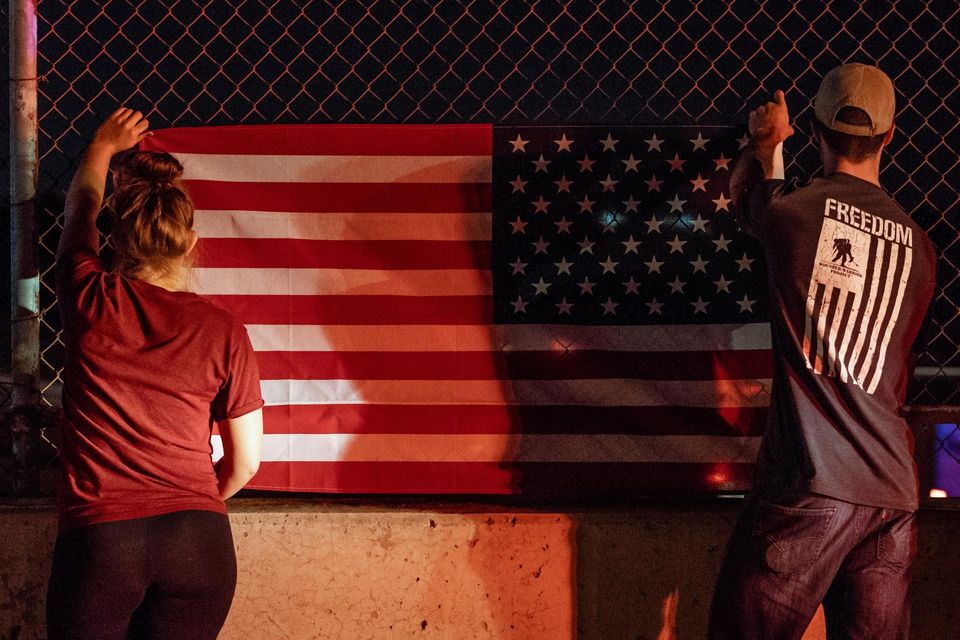 A while ago I used to work at an organization with only a couple of veterans among a group of 50 to 60 other employees.   On Veterans Day, I would always thank the two veterans for their service.  If we consider the commitment and sacrifices these men and women made, it hardly seems to be enough to simply thank them.  To honor these individuals isn't necessarily difficult yet it's extremely worthwhile.
What are some ways we can celebrate veterans at the office year round?
Here's a list of how to thank veterans in the workplace
Veterans Day as a paid Holiday
Name Veteran's Day an official paid company holiday. This will ensure Veterans working in your organization will feel appreciated and can spend the day with their loved ones.
Send Out an email
Send an internal email on Veteran's Day thanking veterans for service.  Make sure to include names of those that have served. The more aware your employees are of the veterans working for you, the more apt they are to give extemporaneous thanks in the office.
Celebratory Breakfast
Provide Breakfast or lunch to celebrate.  If your organization can't offer a day off, a celebratory small gathering may be alternative.  Serve a yellow ribbon cake, decorate with American flags and invite the whole office to join in.
Wave the Flag
Display an American flag at your facility.  For Veteran-specific holidays, put small flags all around the exterior sidewalks of your office building, along with flags throughout the inside.
Volunteer with Military Causes
Offer volunteer opportunities to staff at various military charitable causes or a day of volunteering at one particular military cause.  Offer to match employee donations to the Wounded Warrior Project, Homefront America, Operation Homefront or other charity organization that serves vets.
Get Involved in Veterans Events
Support your local VFW post or hold events there.  Participating in your community's Veterans events gives public recognition to the veterans on your staff.  Also consider attending your local Veterans Hospital or nursing home, or volunteer at one as a team activity. Encourage the volunteering employees to be social with vets. Asking a vet about their service is one of the best ways to honor them, according to Military.com: "Sometimes you don't have to say anything, just listen and give them your full attention."

Veteran's Day is November 11th, and it's important to send our best wishes to those stationed overseas and serving at home.
Along with Veteran's Day, there are many other dates and observances set aside throughout the year specifically honoring and recognizing military members and their families. Here is a list of specific dates and observances for 2021:
February 19th – Coast Guard Reserve Birthday
March 3rd – Navy Reserve Birthday
March 13th – K-9 Veterans Day. The date is the official birthday of the United States K9 Corps and a day to honor their service.
March 25th Medal of Honor Day. A holiday to honor the heroism and sacrifice of Medal of Honor recipients for the United States.
March 29th – Vietnam Veterans Day. A national holiday to recognize and honor Veterans who served in the military during the Vietnam War.
April 5th – Gold Star Spouses Day. A day dedicated to those whose spouses gave their lives while serving in the U.S. military or as a result of service-connected injuries or illness.
April 14th – Air Force Reserve Birthday
April 23rd – Army Reserve Birthday
May 1st – Silver Star Banner Day. "Official Day to honor wounded, ill, and injured Veterans".
May 7th – Military Spouse Appreciation Day. This date recognizes the service and sacrifices of military spouses.
May 13th – Children of Fallen Patriots Day. A day to honor the children left behind by the brave men and women who gave their lives while defending our freedom.
May 15th – Armed Forces Day. Observed on the third Saturday every May, this is a day dedicated to paying tribute to men and women currently serving in the U.S. Armed Forces.
May 31st – Memorial Day. A solemn occasion to honor the men and women who died while serving in the military.
June 6th – "D-Day". Anniversary of the World War II Allied invasion in Normandy, France.
June 14th – Flag Day and Army Birthday.
June 27th – National PTSD Awareness Day. A day to bring awareness about issues related to PTSD.
July 4th – Independence Day
July 27th – Korean War Veterans Armistice Day
Aug. 4th – Coast Guard Birthday
Aug. 7th – Purple Heart Day. A time for Americans to pause to remember and honor the brave men and women who were either wounded on the battlefield or paid the ultimate sacrifice.
Sept. 11th – Patriot Day. An annual observance to remember and honor those who were injured or killed during the Sept. 11, 2001 terrorist attacks.
Sept. 18th – Air Force Birthday
Sept. 26th – Gold Star Mother's and Family's Day. A day to honor the families of fallen service-members.
Oct. 13th – Navy Birthday
Oct. 26th – National Day of the Deployed
Nov. 10th – Marine Corps Birthday
Nov. 11th – Veterans Day. This is the anniversary of the signing of the armistice treaty, which ended World War I and is also a day to thank military Veterans for their service.
Dec. 7th – Pearl Harbor Remembrance Day. The anniversary of the day Japan attacked Pearl Harbor, Hawaii, signaling the United States' entrance into World War II.
Dec. 13th – National Guard Birthday
Dec. 18th – National Wreaths Across America Day